Germany offers a variety of landscapes from the coast in the north to the Bavarian Alps in the south. The country boasts a multitude of historical towns and cities, romantic castles, and excellent museums. The tourism infrastructure is well developed and most of the people speak English.
Our Favorite Germany Vacation Destinations
US MILITARY TIPS
US Air Force | US Army | US Navy | US Marine Corps
Berlin | Heidelberg | Frankfurt | Munich | Stuttgart

PCSing or going on TDY to Germany?
Use this page as your guide!
CONUS COLA
Military Finance is always confusing, and this is especially true when moving overseas. Read our Military Finance Tips and Essential Information to ensure to find out more about your Military Money Matters. Armed with this knowledge, you can protect your interests and ensure that you get everything that you are entitled to.

You can find out how much CONUS COLA you are authorized at your specific duty station by visiting the COLA Rate Webpage.


COST OF LIVING ALLOWANCE
The Cost Of Living Allowance (COLA) was authorized in the FY 1995 National Defense Authorization Act to address non-housing costs of living for servicemembers.

The fundamental goal of CONUS COLA is to compensate servicemembers for the high cost of living at certain duty stations within the Continental United States (for Overseas COLA information and rates, visit our OCONUS COLA Webpage). COLA rates are based on a servicemember's pay grade, years of service, and number of dependents.

An area is considered high cost if the cost of living for that area exceeds 108% of that national average of non-housing costs. COLA takes into account the availability of commissary, exchange, and hospital facilities at a specific duty station, because servicemembers without this infrastructure tend to have a higher cost of living. However, not having this infrastructure is not enough in an of itself to qualify an area for COLA. COLA also factors in local taxes, including taxes on such things as Privately Owned Vehicles for a specific duty location in calculating the cost of living in a particular area..

CONUS COLA rates are updated once a year, and changes go into effect January 1 of each year. At that time, an area's COLA may increase or even decrease, based on the changes in the cost of living in the area.

TAXATION OF CONUS COLA
CONUS COLA, unlike Overseas COLA is taxed. To offset these taxes, CONUS COLA rates incorporate an 18% increase to cover the average income tax.

GEOGRAPHICALLY SEPARATED FAMILIES
In cases where a servicemember is geographically separeated from his family, he will be paid (or not paid) COLA based on his permanent duty station zip code.

CONUS COLA may be based on the residence of the member's primary dependent only if the member is serving an unaccompanied tour outside CONUS, or if a service secretary (ie Secretary of the Army) determines that it would be best if the dependent resides at a separate location (applies to such cases as where a family member must reside in a particular location to receive proper medical treatment).

In addition, when a servicemember is stationed outside of CONUS and his family remains in CONUS, he is authorized CONUS COLA for his dependents in addition to his Overseas COLA.

RESERVISTS AND COLA
Reservists recalled to active duty are not entitled to CONUS COLA for the first 139 days of their recall unless the recall is in support of a contingency operation.

FIELD DUTY/TDY AND TERMINAL LEAVE
CONUS COLA remains in effect, without change, during all periods of TDY, including periods of field duty. In addition, CONUS COLA is paid during terminal leave.

DAMAGED SHIPMENT?

SEE OUR GUIDE TO CLAIMS FOR LOSS/DAMAGE TO HOUSEHOLD GOODS/BAGGAGE
Castles

Heidelberg
Heidelberg is the very image of romantic Germany. The city's 17th Century red sandstone castle ruin and the old bridge are two of the most majestic sights in all of Germany.



Neuschwanstein
Venture into the Bavarian Alps and visit the fairy tale landmark upon which the Walt Disney based his Disney Land Castle: Mad King Ludwig's Schloss Neuschwanstein.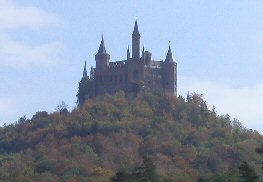 HohenZOLLERN
This idyllic castle looks like it was taken straight out of a fairy tale: with its tall towers and seven successive gates.




PRAGUE CASTLE
The castle complex is composed of palaces, courtyards, churches, and streets spread across the banks of the River Vltava.