IN A NUTSHELL
WHAT: Prague, Czech Republic.
WHERE: Central Europe.
WHY: Wonderfully preserved architecture and beautiful riverside location.
WHEN: Any time of year, but beware of the crowds -- you won't be able to avoid them.
HOW: International flights into Prague's Airport.
IF YOU LIKE THIS... Then you should take a look at Bruges, Belgium, another wonderfully preserved UNESCO World Heritage Site.
Prague is one of the most beautiful cities in Europe. From its well preserved historic center to its castle on the banks of the River Vltava, Prague is a feast for the eyes. Unlike the other capital cities of Europe, Prague survived the ravages of World War II relatively intact. Spend just five minutes in the bustling Czech capital and you will understand why it has received the title of "Golden City."

NOTE: English is widely spoken in Prague (unlike the rest of the Czech Republic). Tourism as an industry has taken off in the city and you will usually run into masses of tourists from Britain at any time of the year. This also means that you will have little trouble communicating with hotel owners, restaurant waiters, and shopkeepers.

Around Prague
Prague's city center is made up of four towns which grew together in the 18th Century. On the west bank of the River Vltava are the Hradčany (Castle District) and the Malá Strana (Lesser Quarter), and on the east bank are the Staré

M

ěsto (Old Town) and the Nové

M

ěsto (New Town). Each section of town has its own unique flavor and landmarks. Visit them all for a true taste of Prague!



PRAGUE CASTLE (Pražský

Hrad) Located on the West Bank of the River Vltava, Prague Castle forms one of the distinguishing landmarks on the city's skyline.






CHARLES BRIDGE (Karlův Most) The Charles Bridge is a landmark in and of itself. Prague's most famous bridge was built in 1357, but its statues were not added until 1657.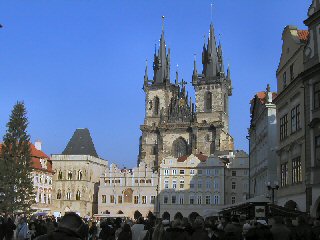 OLD TOWN (Staré

M

ěsto

)

The Old Town holds many of Prague's most notable sights, including the Gothic Spires of the Tyn Church (P

ř

ed Týnem), the Astronomical Clock (Orloj), and the famed Old Town Square.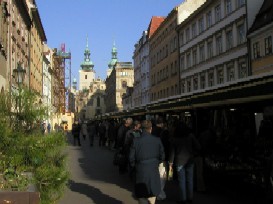 NEW TOWN (Nové

M

ěsto

)

Prague's New Town encircles its Old Town on the eastern banks of the river. You will find museums, markets, and a bustling nightlife in this part of the city.



Prague Travel Tips
TOURIST INFORMATION Prague has a well developed tourist infrastructure. The city plays host to thousands of Americans and British visitors, and everyone speaks excellent English. You can reach the Central Information Office at 12 444 from 8am to 7pm.

URBAN TRANSPORTATION Tired of walking? Prague has three subway lines that across the city. Trains run fairly frequently every day between 5am and midnight. You must buy your ticket from the machine in the station before heading down to the platform. There are many police officers in each subway station, so do not forget to buy your ticket!

Trams and buses also run throughout Prague from 4:30am to midnight. In addition, there are some night lines. You may use one continuous ticket for all three methods of transportation.

Finally, you can find taxicabs in every corner of the city. A lit sign on the car shows that it's free.

PUPPETS AND CRYSTAL Prague's most notable products are Czech crystal and wooden puppets. You will find crystal stores all over the city, with the largest stores located near the Old Town Square. Czech puppets are not merely toys, but are works of art. You will find the best deals in the stalls of market near Wenceslas Square.

CLASSICAL MUSIC AND OPERA Classical Music is everywhere in Prague: you will find advertisements for concerts and operas throughout the city. Stop by one of the Tourism Offices near Wenceslas Square to find out what tickets are available. Tickets are cheap and the performances are superb.



Other European Sights

Neuschwanstein
Venture into the Bavarian Alps and visit the fairy tale landmark upon which the Walt Disney based his Disney Land Castle: Mad King Ludwig's Schloss Neuschwanstein.



Heidelberg
Heidelberg is the very image of romantic Germany. The city's 17th Century red sandstone castle ruin and the old bridge are two of the most majestic sights in all of Germany.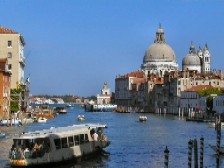 Venice
Take a stroll along Venice's world famous canals and view the magnificent works of art in the city's many art museums and historic cathedrals.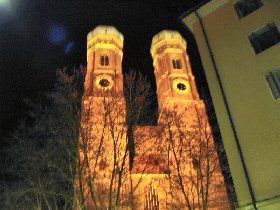 Munich
Munich (München) is well known for its Oktoberfest festivities and for its delicious yeast-wheat beers (Hefeweizen). But the capital of Bavaria has much to offer tourists not just in October, but all year round.
Moving to Europe? Look at out our tips!

Moving to Germany
Whether you are a member of the US Air Force, Army, or Navy, check out our guide to moving to Europe.