PRAGUE CASTLE (Pražský

Hrad) Prague's Castle stands on the site of a previous castle built in the 9th Century. King Charles IV rebuilt this castle in Gothic style in the 14th Century, and final additions to the castle were made in the 16th Century.

The "castle" is actually composed of a complex of palaces, courtyards, churches, and streets, all spread across the hill on the western banks of the River Vltava.

Today the castle is the seat of the Czech President, and it serves as both the historic and political center of the state.

The castle complex is open daily 5am-midnight, April-October; 5am-11pm, November-March. Phone 2 2437 3368.


Other European Cities

Heidelberg
Heidelberg is the very image of romantic Germany. The city's 17th Century red sandstone castle ruin and the old bridge are two of the most majestic sights in all of Germany.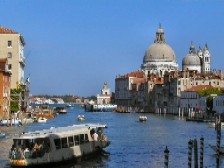 Venice
Take a stroll along Venice's world famous canals and view the magnificent works of art in the city's many cathedrals.
Moving to Europe? Look at out our tips!

Moving to Germany
Whether you are a member of the US Air Force, Army, or Navy, check out our guide to moving to Europe.