HISTORIC CITY CENTER OF SALZBURG
Salzburg is a fantastic mountain destination on the border between Germany and Austria. Come see the musical town that gave birth to both Mozart and The Sound of Music.

HISTORIC CITY CENTER OF VIENNA
The capital city of Vienna is filled with history. From the grand palaces to its baroque churches on its wide boulevards, this city echoes its past as the home of the Hapsburgs and at the helm of the Austro-Hungarian Empire.

HISTORIC CENTER OF BRUGES (BRUGGE)
Visit this picturesque Belgian city and delight in the perfectly preserved medieval maze of canals, open plazas, and row houses.

LA GRAND-PLACE OF BRUSSELS
Visit this center of Belgian culture, featuring narrow cafe-filled streets, wonderful architecture, tasty beers, and a diminutive statue of of little boy.
Historic City Center of Prague
Visit Europe's "Golden City" and experience the magical quality of Prague's medieval buildings and Gothic spires. This well preserved European capital is a feast for the eyes.
VATICAN CITY
Wander through the tiny papal enclave in the heart of Rome which today comprises the world's smallest country.
HISTORIC CENTER OF ROME
Visit Italy's bustling capital for a true walk through the history books. Rome is a delight for all travelers. Whether you're looking for history, architecture, art, or just a great meal, you'll find it in Rome.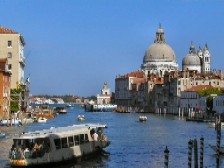 Venice and its Lagoon
Take a stroll along Venice's world famous canals and view the magnificent works of art in the city's many art museums and historic cathedrals.

City of Valletta
Valetta is the capital of Malta and home to much of its long history.

MONASTERY OF THE HIERONYMITES AND TOWER OF BELEM IN LISBON


This monument-packed neighborhood on the Tagus River, west of downtown, features a UNESCO World Heritage Site.

CULTURAL LANDSCAPE OF SINTRA


Visit the exotic castles and palaces of Portugal's royal past. This is a second UNESCO World Heritage Site in central Portugal.

Works of Antoni Gaudi
TEMPLE EXPIATORI DE LA SAGRADA FAMILÍA is Barcelona's most outstanding landmark, and was the brainchild of the famous Catalonian architect and artist Antoni Gaud
í
.
United Kingdom

GIANT'S CAUSEWAY AND CAUSEWAY COAST


A UNESCO World Heritage Site and one of the natural wonders of the world, these rock formations on Northern Ireland's coast are truly a sight to behold.