IN A NUTSHELL
WHAT: Neuschwanstein and Hohenschangau Castles (both on one ticket)
WHERE: Village of Schwangau (right by Füssen on the German Austrian border)
WHY: Perfect fairy tale castle
WHEN: Any time of year!
HOW: Short trip for those staying in Garmisch. Day trip for those in Southern Germany.
IF YOU LIKE THIS... Then you should check out Hohenzollern Castle or the Eagle's Nest.
MAP IT!
CLICK HERE FOR MY TRIP DETAILS AND MORE PICTURES
Neuschwanstein Castle is Mad King Ludwig's magnificent and most famous castle. This is also the castle that Walt Disney patterned his theme park after. With its turrets and mock-medievalism, and its interior styles ranging from Byzantine through Romanesque to Gothic, Germany's number one tourist spot is a real fairy-tale fantasy come true.
LOCATION:
Neuschwanstein is perched high on a hill overlooking both the border town of Schwangau and its sister castle, Hohenschwangau. For the purposes of this website, I use the town of Füssen in place of the village of Schwangau. Both are located right next to each other, and most highway and road signs only have Füssen on them.

The castle is an easy daytrip from the nearby city of Munich, or a cross-border trip from Innsbruck or Salzburg. Other nearby attractions in Southern Germany include Hilter's Eagle's Nest and the Cathedral of Ulm, the tallest church spire in the world. Check out our directions below for further information on how to get there.
HISTORY:
The castle of Neuschwanstein was built for the Bavarian King Ludwig II as a comfortable home above the Alpsee lake and with the Alps towering all around Neuschwanstein and Hohenschwangau. Construction went on between 1869 and 1886, but only about a third of the building was actually completed.
INTERIOR:
The 15 rooms you see on the tour show astonishing craftsmanship and richness of detail. The woodcarvings in King Ludwig's bedroom took 14 carpenters 4 1/2 years to complete. Wagner was a frequent companion of the King (he had his own room in the castle) and the castle's wall murals feature highlights from his operas.
HIKING AND SCENIC OUTLOOKS:
The best view of Neuschwanstein and a 45m waterfall is from the nearby Mary's Bridge (Marienbrücke), which spans a deep gorge. You can get to this bridge by taking the trail which branches off the road at the foot of the castle. This trail wraps up and around the ridgeline to a scenic outlook at the bridge. NOTE: This trail may be closed due to ice during winter.
The scenery around Neuschwanstein and Hohenschwangau is spectacular, and the castle offers a splendid bird's eye view of the countryside below.
CLICK HERE FOR MY TRIP DETAILS AND MORE PICTURES
TOURS:
Numerous local services offer day and extended trips to Neuschwanstein & Hohenschwangau from German metropolitan cities.
Neuschwanstein Day Tours from Munich

Neuchwanstein & Romantic Road Overnight Tours from Munich

Neuschwanstein & Romantic Road Overnight Tours from Frankfurt
HOTELS:
Use our hotel finder to get the cheapest rates for hotels in nearby cities.
Salzburg Hotels starting at $95

Garmisch Hotels starting at $118
Or if you are looking for someplace special, you should stay at the Hotel Ruebazahl (http://www.hotelruebezahl.de/en/), a spa hotel which features direct views of both Neuschwanstein and Hohenschwangau.
TICKETS:


You may only enter the Neuschwanstein on a tour (available in English). You can purchase your tickets for both Neuschwanstein and Hohenschangau at the information booth located in the valley between the two castles.


HINT: Be sure to bring along your student or US military ID cards to get a discount. Be sure to bring Euros for parking and entrance fees.

Guided tours take about 35 minutes, and you will have to walk 170 steps up and down--a lift is not available. The castle (like Hohenschwangau) is open daily April to October, 8.30-5.30, November to March 10-4. You are not allowed to take photographs or videotape the inside of the castle.

Tickets can be booked in advance by calling (0 83 62) 93 08 30.

Ticket prices run around 8 Euro per person per castle, or 15 Euro per person for both castles.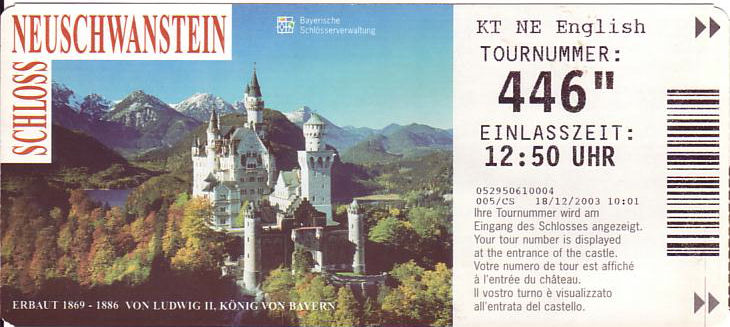 CHECK OUT OUR NEUSCHWANSTEIN INFO SHEETS
FOR MORE INFORMATION:
DIRECTIONS:
From Stuttgart
Take the A8 towards München (Munich), then turn right on the A7 towards Kempten. Exit off of the A7 onto 309/310 towards Füssen. Turn right at the T-intersection onto 16, and drive into Füssen. Turn left when you come to the Füssen pedestrian zone and head out of town. After the bridge, take the second right at the Y-intersection and follow the road to Neuschwanstein.