IN A NUTSHELL
WHAT: Heidelberg
WHERE: city in southern Germany, 1hr south of Frankfurt
WHY: Heidelberg Castle; bridge over the River Neckar; university town...
WHEN: Spring, Summer, Fall, Winter, anytime is a good time to visit. But the best time could be in the spring or fall (to beat the tourist crowd) or during the Christmas season
HOW: Arrive in town by car, train, or bus; plan to spend the day wandering through the castle and town below
CLICK HERE FOR MY TRIP DETAILS AND MORE PICTURES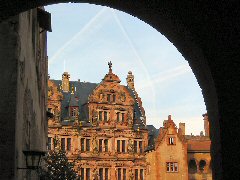 Heidelberg is the very image of romantic Germany. This beautiful German city is the home of one of Germany's most visited castles. While it may not be the biggest, nor best preserved castle, this tourist favorite is certainly one of the most magnificent ruins in all of Germany.
This red sandstone castle is perched high atop a hill overlooking the cobbled streets of downtown Heidelberg. From the castle, you can see the city below spread out in a panorama of red tiled roofs, cathedrals, and plazas. The city is perfectly situated on the banks of the Neckar River with an accompanying pedestrian bridge over the waters below the castle.
CLICK HERE FOR A PANORAMA OF HEIDELBERG
There are several ways to ascend the hill to reach the castle. The most popular of which is to climb up the 315 stairs from the base of the hill up to the lower castle entrance. You may explore the garden outside the castle walls, but to enter the castle you must pay 3 Euros. The castle garden wraps around the castle and provides a spectacular view of Heidelberg castle hanging on the edge of the hill above downtown Heidelberg.
From the inner courtyard of the castle you can see most of the remains of the old castle halls. Each wall is dotted with equisitely carved statues and stone facades. In addition, a grandiose balcony overlooking the city below is a short walk away.
Heidelberg castle also houses the world's largest wine vat. This monstrosity takes up an entire room in the castle cellar and has a capacity of 55,000 gallons. For more activities and photos of Heidelberg Castle, and other castles in Germany, check out the ultimate German Photo and Travel Guide

.
TICKETS / ON-SITE TOURS:
Tours are available at the castle in both English and German. The castle is open year round from 8:00-5:30, except on Christmas Eve and New Year's Eve, when it is open from 8:00-1:00.

Tickets can be booked in advance by calling (0 62 21) 53 84 14.

MULTIPLE DAY TOURS:
Several companies also run tours of Heidelberg Castle from Frankfurt and Munich, combining these tours with trips to other sights such as Neuschwanstein Castle.
Heidelberg & Romantic Road Overnight Tours from Frankfurt

Heidelberg & Romantic Road Overnight Tours from Munich
HOTELS:
Use our hotel finder to get the cheapest rates for hotels in the Heidelberg Area: