IN A NUTSHELL
WHAT: Lichtenstein Castle (Schloss)
WHERE: Near Reutlingen in the Swabian Alb, just south of Stuttgart
WHY: Precarious castle perched on the rim of a cliff high above the valley
WHEN: Any time of year
HOW: Via car from Stuttgart or elsewhere in Southern Germany
IF YOU LIKE THIS... Then you should take a look at nearby Hohenzollern Castle
Lichtenstein is a fantastic castle precariously perched high on the side of a cliff. The Lichtenstein Castle was built in 1842 b the Count of Württemberg. The Count drew his inspiration from the novel "Lichtenstein" (translated as white-colored stone). The castle contains a large collection of historic weapons, armor, and treasures.

Today's descendents of the Count still own the castle, but it is open to the public for tours.

The castle is open daily from April to October (9am to 5:30pm); weekends and holidays in February, March, and November (10am to 4pm). The castle is closed in December and January.

| | | | |
| --- | --- | --- | --- |
| | Schloss Lichtenstein perched on a rock high above the valley floor | | Stone bench on the castle grounds |
| | Wooden bridge entryway to the castle | | Looking down to the valley below |
| | Castle entrance | | Castle tower |
| | Walls surrounding the castle grounds | | View of the castle tower and entrance |
| | Buildings on the Lichtenstein Castle grounds covered in ivy | | View of the castle from the valley below |
| | Schloss Lichtenstein seen from the side | | Buildings on the castle grounds |
Other European Sights
Prague
Visit Europe's "Golden City" and experience the magical quality of Prague's medieval buildings and Gothic spires. This well preserved European capital is a feast for the eyes.



Heidelberg
Heidelberg is the very image of romantic Germany. The city's 17th Century red sandstone castle ruin and the old bridge are two of the most majestic sights in all of Germany.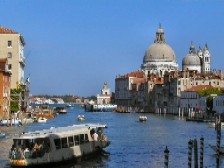 Venice
Take a stroll along Venice's world famous canals and view the magnificent works of art in the city's many art museums and historic cathedrals.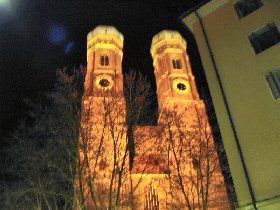 Munich
Munich (München) is well known for its Oktoberfest festivities and for its delicious yeast-wheat beers (Hefeweizen). But the capital of Bavaria has much to offer tourists not just in October, but all year round.