IN A NUTSHELL
WHAT: Salzburg
WHERE: City on the Austrian/German border
WHY: Mozart's home, The Sound of Music, castles and culture
WHEN: Any time of year
HOW: International flights into W.A. Mozart International Airport, short drive from Munich.

Salzburg is a fantastic mountain destination on the border between Germany and Austria. Best known as the birthplace of the classical master Wolfgang Amadeus Mozart, Salzburg offers visitors an abundance of culture. This tiny city is simply bursting with music, from classical music festivals held year-round to touring the sights from The Sound of Music and walking in the footsteps of the von Trapp family.
Around Salzburg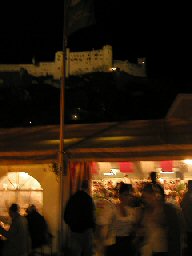 HOHENSALZBURG FORTRESS (Festung Hohensalzburg) is the imposing castle which dominates the Salzburg skyline. The fortress was built in 1077 and over the next 600 years, constant additions were made to its size. It reached its present day extent in 1681.

A tour of this extensive complex will take you through ornate palatial chambers and up to the top of the fortress for a magnificent view of the city.

DOM is Salzburg's main Cathedral, located downtown in the Domplatz. This ornately decorated church has the capacity to hold 10,000 people.



FRANCISCAN CHURCH (Franziskanerkirche) was Salzburg's main Church before the construction of the Dom. These two cathedrals are located just a few steps away from each other in Salzburg's Altstadt (Old City).


ARCHBISHOP'S PALACE (Residenz) The splendid Salzburg Residenz was home to the city's ruling Archbishops and today has been turned into an art museum.




Other European Castles

Hohenschwangau
Take a trip into the Bavarian Alps to see the castle Bavaria's Mad King Ludwig grew up in.





Neuschwanstein
Venture into the Bavarian Alps and visit the fairy tale landmark upon which the Walt Disney based his Disney Land Castle: Mad King Ludwig's Schloss Neuschwanstein.
Moving to Germany? Look at out our tips!

Moving to Germany
Whether you are a member of the US Air Force, Army, or Navy, check out our guide to moving to Europe.