IN A NUTSHELL
WHAT: Hohenzollern Castle
WHERE: near the village of Hechingen, south of Stuttgart;
CLICK HERE to Map It!
WHY: Quick daytrip to a stunning castle
WHEN: Any time of year!
HOW: Short morning or afternoon trip for those in the Stuttgart area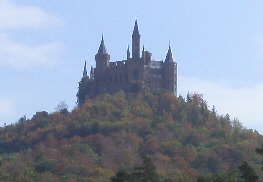 Hohenzollern Castle is situated at the summit of a Swabian hill overlooking the small town of Hechingen. This idyllic castle looks like it was taken straight out of a fairy tale: with its tall towers and seven successive gates.

CLICK HERE FOR MY TRIP DETAILS AND MORE PICTURES

At the nucleus of the castle lies a tiny chapel dedicated to St. Michael in 1061. Over successive centuries, local German princes constructed a castle around this chapel. While its foundations are a millennium old, the castle has been assaulted, torn down, built, and rebuilt. Over its first 400 years, the castle fell twice in furious bombardments from catapults, archers, and swordsmen. Then in 1453, the castle was leveled to the ground.

In 1850, King Friedrich Wilhelm IV of Prussia and his cousin Prince Karl Anton von Hohenzollern began construction of a new castle atop these 400-year-old ruins. The castle was finished in 1867 and soon became a symbol of the new rulers of southwest Germany. The statues at the castle's base portray many Prussian kings and noblemen.

Kings and Queens from the many branches of the Hohenzollern family around Europe had their roots at this castle. The Hohenzollern-Sigmaringen family tree is one of the highlights of a tour of the castle. This extensive tree is painted on one of the walls inside the castle, and an examination of the branches of the family will reveal notable Prussian kings such as Frederick the Great.

Hohenzollern Castle is a must-see landmark for travelers in Southwestern Germany. The castle offers a wonderful view of the surrounding countryside with lush forests, green farmland, and a few tiny villages. There is also a cafe on the castle grounds.

CLICK HERE FOR MY TRIP DETAILS AND MORE PICTURES

TOUR:
You may only view the interior of the castle as part of a guided tour, and the castle only offers tours in German. You may purchase tickets in the castle office in the main courtyard.

The castle is open daily throughout the year except on Christmas Eve. From 16 March - 01 November, the castle is open from 9:00-5:30. From 01 November - 15 March the castle is open from 9:00-4:30.

You can call the castle office via phone at (0 74) 71 24 28.

Click on the "P" marking the marking lot below, to make use of the maps' "To Here" function.

The road to the castle ends in a parking lot three-quarters of the way up the hill. Shuttle buses run regularly between the parking lot and the front gate. You can also take the footpath up the mountainside (approximately 15 minutes), but it is a very steep climb. Even from the front gate, the path inside the castle corkscrews up through several more gates until you reach the upper courtyard.

The green icon marks the castle itself on the map, and the two "fork and knife" icons mark the castle restaurant and cafe.