DIRECTIONS:
From Stuttgart
Take the A8 towards München (Munich), then turn right on the A7 towards Kempten. Exit off of the A7 onto 309/310 towards Füssen. Turn right at the T-intersection onto 16, and drive into Füssen. Turn left when you come to the Füssen pedestrian zone and head out of town. After the bridge, take the second right at the Y-intersection and follow the road to Neuschwanstein.
Other European Sights

Black Forest
Venture into the heart of the forest where the trees grow so close together they block out the light from above. Enjoy this fantasyland of chocolate cakes and cuckoo clocks.



Eagle's Nest
Adolf Hitler's Eagle's Nest lies atop a mountain in the southeastern corner of Germany. Visit this magnificent monument and marvel at the breathtaking views of the German and Austrian Alps.



Hohenschwangau
Take a trip into the Bavarian Alps to see the castle Bavaria's Mad King Ludwig grew up in.





Neuschwanstein
Venture into the Bavarian Alps and visit the fairy tale landmark upon which the Walt Disney based his Disney Land Castle: Mad King Ludwig's Schloss Neuschwanstein.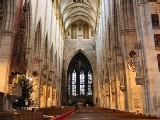 Ulm
The city of Ulm dates as far back as 854 AD. It's cathedral lays claim to having the world's tallest steeple, and after you have climbed the 768 steps to the top you won't argue this fact.

Moving to Germany? Look at out our tips!

Moving to Germany
Whether you are a member of the US Air Force, Army, or Navy, check out our guide to moving to Europe.