IN A NUTSHELL
WHAT: German Black Forest
WHERE: Southwestern Germany, on the French and Swiss border regions
WHY: Picturesque mountain towns; hiking; cuckoo clocks
WHEN: All year round
HOW: Day trip from southern Germany
Black Forest (Schwarzwald) is home to fairy tales and chocolate cake. This forest, covering South Western Germany, is famous for its
trees which grow so close together they block out the sun -- thus making the forest black.

Picturesque villages dot the hilly countryside in this extensive nature preserve. Venture into the Black Forest and enjoy the fresh air, the local craftworks, and the air of magic of this forested paradise.

Around the Black Forest

TRIBERG This frequent tourist destination has it all: waterfalls, cuckoo clocks, woodworks, and Black Forest cake.




GUTACH RIVER WASSERFALL In the city of Triberg, the Gutach River falls in a series of cascades to form Germany's tallest waterfalls.





MARIA IN DER TANNE This small baroque church lies in Triberg and is worth a visit.





BLACK FOREST CAKE Venture into the Black Forest and have a slice of this delicious specialty!






TRIBERG MAP
Take a look at our map of Triberg and the Gutach River Wasserfall Hike.
Nearby Sights
LUDWIGSBURG CASTLE
This magnificent castle and its extensive grounds are often referred to as the Versailles of Southern Germany. The baroque palaces are one of the highlights of the German state of Baden-Württemburg.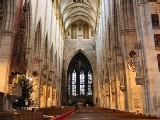 Ulm
The city of Ulm dates as far back as 854 AD. It's cathedral lays claim to having the world's tallest steeple, and after you have climbed the 768 steps to the top you won't argue this fact.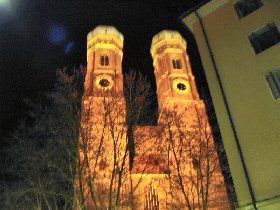 Munich
Munich (München) is well known for its Oktoberfest festivities and for its delicious yeast-wheat beers (Hefeweizen). But the capital of Bavaria has much to offer tourists not just in October, but all year round.



Hohenschwangau
Take a trip into the Bavarian Alps to see the castle Bavaria's Mad King Ludwig grew up in.





Neuschwanstein
Venture into the Bavarian Alps and visit the fairy tale landmark upon which the Walt Disney based his Disney Land Castle: Mad King Ludwig's Schloss Neuschwanstein.
Moving to Germany? Look at out our tips!

Moving to Germany
Whether you are a member of the US Air Force, Army, or Navy, check out our guide to moving to Europe.