Maria in der Tanne is a small baroque church in Triberg which was a destination for pilgrims in the 17th Century.

Legend has in that a young girl was cured from an eye disease by the water from a nearby spring in 1644. The next year, a man cured his leprosy by washing in the water from the spring. Shortly thereafter, he placed a small statue of Mary was put in the cavity of a fir tree.

The statue was forgotten, then rediscovered years later by three soldiers drawn to it by beautiful singing. The present-day church was built in 1705.
Other European Churches and Nearby Sights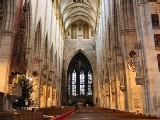 Ulm
The city of Ulm dates as far back as 854 AD. It's cathedral lays claim to having the world's tallest steeple, and after you have climbed the 768 steps to the top you won't argue this fact.



ST. PETER'S BASILICA (Basicilica di San Pietro) is the magnificent heart of the Catholic Church, which lies on the burial site of St. Peter.



TEMPLE EXPIATORI DE LA SAGRADA FAMILÍA
is Barcelona's most outstanding landmark, and was the brainchild of the famous Catalonian architect and artist Antoni Gaud
í
.


DOM is Salzburg's main Cathedral, located downtown in the Domplatz. This ornately decorated church has the capacity to hold 10,000 people.


Moving to Germany? Look at out our tips!

Moving to Germany
Whether you are a member of the US Air Force, Army, or Navy, check out our guide to moving to Europe.