For a panorama of Piazza San Pietro, CLICK HERE

ST. PETER'S BASILICA is the spiritual heart of the Catholic Church and lies on the St. Peter's burial place. This basilica is grandeur personified, with gigantic colonnades topped by a magnificent dome. Make sure you climb to the top of the dome for magnificent views of the city!

Most of the basilica dates from the 16th and early 17th Centuries, when Giovanni Bernini and Donato di Angelo were the principal architects and artists. The High Altar baldacchino is one of Bernini's noted works. The actual dome of the basilica was designed by Michelangelo.
Rome Travel Tips
WHERE TO STAY Find out which parts of the city to stay near...and which parts to avoid!

URBAN TRANSPORTATION Tired of walking? Like any other city, Rome offers several modes of transportation.
Other European Cities

Heidelberg
Heidelberg is the very image of romantic Germany. The city's 17th Century red sandstone castle ruin and the old bridge are two of the most majestic sights in all of Germany.



Hohenschwangau
Venture into the Bavarian Alps and visit the castle Bavaria's Mad King Ludwig grew up in.




Prague
Visit Europe's "Golden City" and experience the magical quality of Prague's medieval buildings and Gothic spires. This well preserved European capital is a feast for the eyes.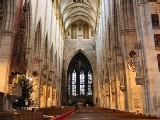 Ulm
The city of Ulm dates as far back as 854 AD. It's cathedral lays claim to having the world's tallest steeple, and after you have climbed the 768 steps to the top you won't argue this fact.
Moving to Europe? Look at out our tips!

Moving to Germany
Whether you are a member of the US Air Force, Army, or Navy, check out our guide to moving to Europe.