The TREVI FOUNTAIN is Rome's most famous fountain. Although there has been a fountain in this tiny piazza since Roman times, the present-day fountain was built in 1732 and takes its names from the fact that three roads converge at the piazza.

The intricate sculptures and clear water make this fountain the perfect place to while the day away. Before you leave, throw two coins into the fountain. Legend has it that the first coin grants you your wish, while the second coin ensures your return to Rome!
Rome Travel Tips
WHERE TO STAY Find out which parts of the city to stay near...and which parts to avoid!

URBAN TRANSPORTATION Tired of walking? Like any other city, Rome offers several modes of transportation.
European Cities

Heidelberg
Heidelberg is the very image of romantic Germany. The city's 17th Century red sandstone castle ruin and the old bridge are two of the most majestic sights in all of Germany.


Prague
Visit Europe's "Golden City" and experience the magical quality of Prague's medieval buildings and Gothic spires. This well preserved European capital is a feast for the eyes.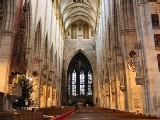 Ulm
The city of Ulm dates as far back as 854 AD. It's cathedral lays claim to having the world's tallest steeple, and after you have climbed the 768 steps to the top you won't argue this fact.
Moving to Europe? Look at out our tips!

Moving to Germany
Whether you are a member of the US Air Force, Army, or Navy, check out our guide to moving to Europe.