Other European Cities

Heidelberg
Heidelberg is the very image of romantic Germany. The city's 17th Century red sandstone castle ruin and the old bridge are two of the most majestic sights in all of Germany.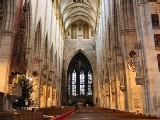 Ulm
The city of Ulm dates as far back as 854 AD. It's cathedral lays claim to having the world's tallest steeple, and after you have climbed the 768 steps to the top you won't argue this fact.
Moving to Europe? Look at out our tips!

Moving to Germany


Whether you are a member of the US Air Force, Army, or Navy, check out our guide to moving to Europe.