TYN CHURCH (Před Týnem) The towers of the Tyn Church have visibly stood the test of centuries. This Gothic church was built in the mid-1300s on the site of a Romanesque structure. Tyn Church was originally a church of the Reformation, and home to the reformer Jan Hus. However, since the counter-Reformation the Tyn Church has been a Catholic bastion.

The church's twin towers, bristling with turrets and walkways, are over 200 feet tall. These towers were 16th Century additions to the original church.
Other European Cities

Heidelberg
Heidelberg is the very image of romantic Germany. The city's 17th Century red sandstone castle ruin and the old bridge are two of the most majestic sights in all of Germany.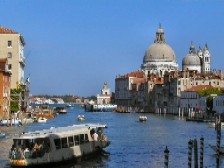 Venice
Take a stroll along Venice's world famous canals and view the magnificent works of art in the city's many cathedrals.
Moving to Europe? Look at out our tips!

Moving to Germany
Whether you are a member of the US Air Force, Army, or Navy, check out our guide to moving to Europe.