OLD TOWN HALL (Staroměstská Radnice) This building is the centerpiece of Old Town Square and you will always find a mass of tourists clustered at the base of the tower. Old Town Hall was marked from an existing series of row houses in 1338 by the city council. The tower houses Prague's famous Astronomical Clock (Orloj), a beautiful and ornate giant clock built in 1410. Each hour a skeleton representing Death rings a bell and inverts his hourglass while a row of apostles parade by and nod to the crowd.

Open Tuesday-Sunday 9am-6pm, Monday 11am-6pm, April-October; Tuesday-Sunday 9am-5pm, Monday 11am-5pm, November-March.
Other European Cities

Heidelberg
Heidelberg is the very image of romantic Germany. The city's 17th Century red sandstone castle ruin and the old bridge are two of the most majestic sights in all of Germany.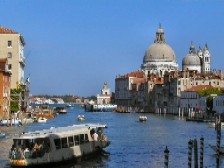 Venice
Take a stroll along Venice's world famous canals and view the magnificent works of art in the city's many cathedrals.
Moving to Europe? Look at out our tips!

Moving to Germany
Whether you are a member of the US Air Force, Army, or Navy, check out our guide to moving to Europe.