HISTORY
Armed Forces Recreation Centers (AFRC) are located around the world to provide recreational facilities for US Service Members and their families. These R&R locations were selected for their proximity to US Forces and to natural vacation destinations at overseas locations. After World War II, recreational centers were established at Garmisch, Chiemsee, and Berchtesgaden, among other locations, to support US Occupational Forces.

AFRC-Europe consolidated these facilities beginning in the '90s, first by closing the Berchtesgaden facility and returning the Eagle's Nest to the German Federal Government, then later closing AFRC-Chiemsee and consolidating the AFRC facilities in Garmisch. In 2004, AFRC completed construction of the all-new Edelweiss Lodge and Resort, a full service alpine resort providing world-class service to military Service Members and their families.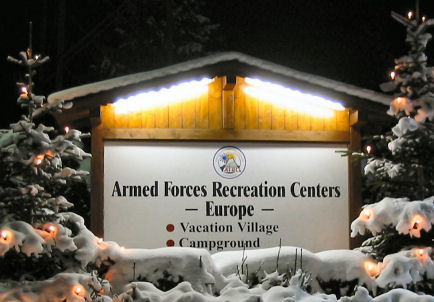 WORKING IN GARMISCH
Garmisch, the site of the 1936 Winter Olympics and the 1978 Alpine World Skiing Championships, is a small German recreation town in the Bavarian Alps. In the winter, this alpine haven serves as a major skiing destination for Germans and Austrians, and in the summer these same ski slopes turn to hiking, mountain biking, and paragliding to provide year-round outdoor fun.

EDELWEISS LODGE AND RESORT JOBS
Edelweiss serves 300,000 guests per year and is always looking for friendly, dedicated individuals to join the hospitality team. This is a great opportunity to not only work in in the service industry, but to experience European culture. Employees use their free time to enjoy the pleasures of European life. It's hard not to stay busy in Garmisch, Germany, with castles, travel opportunities, and festivals at your fingertips.

JOB TYPES
Most of the available positions at the AFRC Garmisch are under the Resort Hotel Attendant Program. Work duties in this program include housekeeping, table bussing, custodial, and laundry. All jobs are limited in tenure for 13 months.

The regular workweek at the Edelweiss Lodge and Resort consists of 20-40 hours (avg 32 hours). Employees are required to work shifts.
Supervisors will attempt to schedule 5 working days with 2 days off as a general rule.

SALARY
Wages at the Edelweiss Lodge and Resort are comparable with the industry standard. Average entry level position pays $7.56 - $8.18 an hour. All US employees paid in US dollars and are subject to federal and applicable state taxes.

BENEFITS
- Medical and Dental Insurance: Insurance coverage is mandatory, and the Edelweiss offers comprehensive insurance plan through AETNA. This insurance costs $57.29 every two weeks, with the amount deducted from employees' paychecks automatically. Employees may opt out of this insurance, but must provide proof coverage overseas for the duration of employment.

- 401k available with company contributions.

- Transportation to and from Germany.

- Paid Vacation and Sick Leave.

- Tax Free American Shopping Center: US military shopping facilities. Local facilities include commissary (supermarket), electronics, books, movie rentals, sports equipment, and fast food.

- Employee outings to build team spirit and have fun. These outings include whitewater rafting, ski trips, movie trips, appreciation parties, and an employee of the year celebration.

HOUSING
Dorm style housing costs $300 a month. Utilities are included in this price. Housing includes communal bathrooms and kitchens. All rooms are double occupancy and include twin beds, night stands, a table, chairs, sink, and wardrobe. Housing is for employees only. Non-employed spouses may not live in these housing facilities. Children and pets are also not permitted.

Rooms include free Armed Forces Network TV hookup.

Housing areas include a fitness gym, bike shop, internet cafe with free high speed wireless access, movie theater, xbox room, ping pong and foosball lounge, pay phones, ATM, coin operated laundry, and a BBQ area with grills, a basketball court, and picnic tables

ELIGIBILITY
- US citizens
- 18 years or older
- Possess a valid US passport
- One year post high school experience in the service industry, or one year of post high school education
- Pass a background check
- Maintain appropriate standard of appearance: no visible tattoos, no piercings or oddly colored or styled hair. Need black shoes, preferably lace-up.

INTERESTED IN APPLYING?
Follow the steps below:
Step 1) Download the application packet by clicking the link on this page.
Step 2) Fill out the following forms:
DA_Form_3433.pdf
DA_Form_3433_1.pdf
Prior Military Service Members must submit their DD214, Member Copy 4.
Experience working with kids? Fill out form (child_youth_service.pdf)
Step 3) Fax copies of these forms to (011-49) 8821-750-2833 (International Fax to Germany) or mail them to:
Edelweiss Lodge and Resort
Attn: Human Resources Dept
Unit 24501
APO AE 09053
Step 4) We will contact you via email should you be selected for an interview. Interviews are held in the United States. It is required for you to have an email address for us to proceed with the selection process.
AFRC CONTACT INFORMATION

If you would like to contact the Human Resources Office to ask questions regarding applications, job availability, interviews, departures or for general information regarding employment please email : [email protected]
Edelweiss Lodge
Within U.S.
Attn: Human Resources Office
Civilian - (011-49) 8821-729112
APO AE 09053
FAX (011-49) 8821-729213

Edelwiess Lodge
Attn: Human Resources Office
Within Germany
Lazarettstrasse 7
Civilian 08821-729112
82467 Garmisch-Partenkirchen
Germany
FAX - 08821-729213