Germany offers a variety of landscapes from the coast in the north to the Bavarian Alps in the south. The country boasts a multitude of historical towns and cities, romantic castles, and excellent museums. The tourism infrastructure is well developed and most of the people speak English.
Our Favorite Germany Vacation Destinations
US MILITARY TIPS
US Air Force | US Army | US Navy | US Marine Corps
Berlin | Heidelberg | Frankfurt | Munich | Stuttgart

PCSing or going on TDY to Germany?
Use this page as your guide!
OBTAINING YOUR DRIVER'S LICENSE
Ensure that your stateside driver's license is current and not near expiration. The revised Status of Forces Agreement (SOFA) that went into effect in 1993 requires all US personnel assigned to Germany to have in their possession a valid stateside license in order to be eligible for licensing and to operate privately owned vehicles in Europe. Not that some states allow a service member to have an expired license while on active duty. This is NOT considered a valid stateside driver's license in Europe. All personnel arriving without a valid stateside license will be required to attend driver training on the local economy at their own expense.

Within Germany, all service members and family members must obtain a US Army Europe (USAREUR) driver's license in order to legally operate a vehicle with USAREUR plates. International driver's licenses are not sufficient. In addition, German law does not allow for youth under the age of 18 to drive while in Germany.

If you have a valid stateside driver's license, then the USAREUR driver's license test consists of 1) A 20 minute 50 question international sign identification test, and 2) A 100 question written rules (no time limit) test. Prior to initial testing an orientation and cursory eye exam is mandatory.

Here you can view a copy of the Driver's Study Booklet. On the day of testing you must have the following items:

a) Valid ID Card.
b) Valid stateside driver's license.
c) Sponsor's local unit, unit address, and phone number.
d) Personal mailing address.
e) $10 check or money order.
f) Corrective lenses if needed.
g) The Driver's Study Booklet must be returned on testing day.

NOTE: If you arrive for your test without any of the above, you will be rescheduled to test on another day.

MOTORCYCLES
If you have a valid stateside license with motorcycle endorsement, you must pass a 30 question written test and also a nine exercise proficiency test before being able to legally drive a motorcycle in Germany. If you fail either portion of the test or do not have a stateside motorcycle endorsement you can take a required course on the economy at you expense.

Motorcycle license testing is offered February through October only. Each applicant is required to bring:

a) Valid stateside license with motorcycle endorsement.
b) Valid USAREUR POV license.
c) Motorcycle and protective headgear.
d) $10 check or money order.

BOAT REGISTRATION
Boats have to be registered with the German authorities.
DAMAGED SHIPMENT?

SEE OUR GUIDE TO CLAIMS FOR LOSS/DAMAGE TO HOUSEHOLD GOODS/BAGGAGE
Castles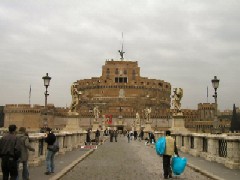 CASTEL SANT' ANGELO
Rome's Castle Sant' Angelo is a small, beautiful castle on the banks of the Tevere River located just outside of the Vatican.

Heidelberg
Heidelberg is the very image of romantic Germany. The city's 17th Century red sandstone castle ruin and the old bridge are two of the most majestic sights in all of Germany.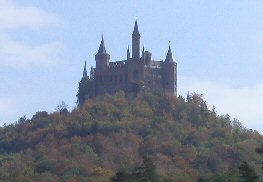 HohenZOLLERN
This idyllic castle looks like it was taken straight out of a fairy tale: with its tall towers and seven successive gates.




Hohenschwangau
Venture into the Bavarian Alps and visit the castle Bavaria's Mad King Ludwig grew up in.