How to Get There:
- Take the S2 train from Munich towards Dachau/Petershausen. From the Munich Hauptbahnhof, this is a 20 minute ride. From the Dachau station, take either the Bus 724 to the Memorial Site parking lot, or Bus 726 to the main entrance of the Memorial Site.

- If you are traveling by car, use the map below and click on the "P" designating the Parking Lot and use the map's "To Here" function.

Map of Dachau Concentration Camp:
"P" designates the parking lot
"i" designates the museum
Green Marker designates the camp living area and barracks exhibit
Yellow Marker designates the gas chamber and crematorium area
Other European Sights

Black Forest
Venture into the heart of the forest where the trees grow so close together they block out the light from above. Enjoy this fantasyland of chocolate cakes and cuckoo clocks.



Eagle's Nest
Adolf Hitler's Eagle's Nest lies atop a mountain in the southeastern corner of Germany. Visit this magnificent monument and marvel at the breathtaking views of the German and Austrian Alps.



Hohenschwangau
Take a trip into the Bavarian Alps to see the castle Bavaria's Mad King Ludwig grew up in.





Neuschwanstein
Venture into the Bavarian Alps and visit the fairy tale landmark upon which the Walt Disney based his Disney Land Castle: Mad King Ludwig's Schloss Neuschwanstein.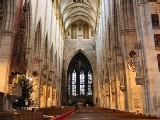 Ulm
The city of Ulm dates as far back as 854 AD. It's cathedral lays claim to having the world's tallest steeple, and after you have climbed the 768 steps to the top you won't argue this fact.

Moving to Germany? Look at out our tips!

Moving to Germany
Whether you are a member of the US Air Force, Army, or Navy, check out our guide to moving to Europe.