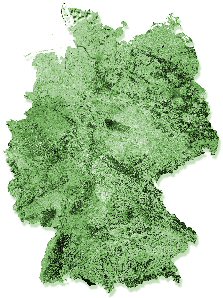 Germany offers a variety of landscapes from the Baltic and North Sea Coasts in the north to the Bavarian Alps in the south.

The country boasts a multitude of historical towns and cities, romantic castles, and excellent museums. Germany offers a little bit of everything for shoppers, travelers and adventurers alike.

In addition, the tourism infrastructure is well developed and most of the people speak English.


CLICK HERE FOR A MAP OF GERMANY

Our Favorite Germany Vacation Destinations

Neuschwanstein
Venture into the Bavarian Alps and visit the fairy tale landmark upon which the Walt Disney based his Disney Land Castle: Mad King Ludwig's Schloss Neuschwanstein.
Heidelberg
Heidelberg is the very image of romantic Germany. The city's 17th Century red sandstone castle ruin and the old bridge are two of the most majestic sights in all of Germany.
HOFBRÄUHAUS
The largest beer hall in Munich is a must-see attraction. Enjoy the liter mugs of Bavarian beer, the friendly atmosphere, the live band, and the beer songs! You'll always have fun at the Hofbräuhaus.

Ulm
The city of Ulm dates as far back as 854 AD. It's cathedral lays claim to having the world's tallest steeple, and after you have climbed the 768 steps to the top you won't argue this fact.


Black Forest
Venture into the heart of the forest where the trees grow so close together they block out the light from above. Enjoy this fantasyland of chocolate cakes and cuckoo clocks.

Eagle's Nest
Adolf Hitler's Eagle's Nest lies atop a mountain in the southeastern corner of Germany. Visit this magnificent monument and marvel at the breathtaking views of the German and Austrian Alps.
Dachau
Visit the first Nazi Concentration Camp, located just outside of Munich. Over 206,000 prisoners would pass through this slave labor camp from 1933 to 1945.
GARMISCH
Whatever you're looking for, whether it's paragliding and hiking in the summer, to skiing and snowboarding in the winter, or leisurely mountain drives and wondrous mountain castles, this is the place for you.
LICHTENSTEIN
This beautiful little castle just south of Stuttgart is perched on a crag high above the valley below.
Dining and Shopping in Germany
Selecting a restaurant
Read our travel tips so that you can make the best decisions on where to eat!

Dining OUT
Now that you've selected a restaurant, find out what to expect inside!

BEER Dictionary
Confounded by the numerous beer types available in Germany? Read out guide to navigate your path to your favorite type of beer!

Shopping
Planning on doing any shopping in Germany? Check out our guide on German customs and sizes.
Moving to Germany? Look at out our tips!

Moving to Germany
Whether you are a member of the US Air Force, Army, or Navy, check out our guide to moving to Europe.