3. Placing and Aiming your Antenna (Satellite Dish)

a) You need two numbers to properly aim your satellite dish: Azimuth and Elevation. Azimuth numbers are drawn from a magnetic compass and will tell you how far left or right to aim your dish. Elevation numbers describe the angle up from the horizontal horizon that you must tilt your dish (how far up, starting by aiming straight at the horizon, you must turn your dish). You can find this information, along with the appropriate satellite name, in the back of this guide starting on page 16

b) Go outside to your antenna site and hold your compass flat in your hand. Rotate the compass to get the "N" (north) and pointer to align.

c) Locate the mark on the compass that corresponds to the azimuth number for your location. This azimuth is the left/right direction in which you must place your antenna. Satellites are located above the Earth's equator, so you must generally aim toward the equator (in the Northern Hemisphere, aim South, in the Southern Hemisphere, aim North).

d) Point or aim your antenna roughly in the direction of your azimuth setting. Do not worry about exactly aligning your antenna, because that will come in a later step.
<![if !vml]>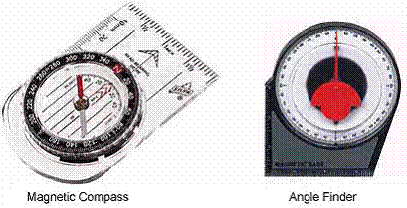 <![endif]>
Figure 7 Satellite Pointing Tools
e) Use your angle locator to find the angle listed as the elevation for your location. Some antennas have an elevation scale on the antenna mount that will allow you to line up your dish without an angle locator. If you don't have an elevation scale and can't locate an angle finder at your local hardware store, you can make your own using a common protractor. See Figure 2 below.
<![if !vml]>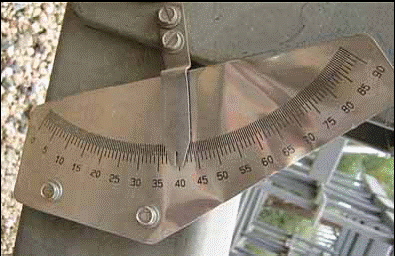 <![endif]>
Figure 8 Angle Finder using Common Protractor
f) Raise your satellite dish arm to approximately the elevation angle, using your angle gauge for reference. This is the direction and elevation of your antenna. Sight down your arm to ensure a clear path. Trees or buildings should not block your antenna; otherwise your site will not be a suitable location. Trees will block the signal so take into consideration their future growth.

g) At this point exact aiming is not important the dish is being pointed in a general direction to allow for the installation of connection cables.