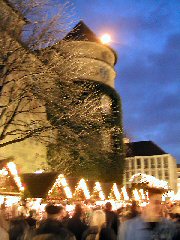 Christmas is always a festive time of year, and Europeans take this holiday spirit to the max. All over the continent, numerous markets sprout up in city centers selling all manner of handmade crafts and ornaments. These markets transform historic city squares into twilight magical winter wonderlands.

Christmas markets offer visitors a cornucopia of tasty treats. At every market you will find typical winter festival fare to include Bratwurst sausages, pork steak sandwiches (Schweinesteak), Flammkuchen (a pizza crust topped with cream cheese, bacon, and onions), and the delightfully warm Glühwein, a spicy mulled wine. For travelers with a sweet tooth, vendors at these Christmas markets also sell big bags of candy, spiced cookies (Lebkuchen), glazed nuts, caramel apples, cotton candy, and

crêpes

.

Wherever you choose to go, you can be sure of rediscovering that the Advent season is much more than the organizational nightmare and shopping binge that it can so easily become. Rather, it's a time of togetherness, a time of peace and reflection, and a time to enjoy the simple pleasures of life such as the company of friends and family.
Our Favorites
HEIDELBERG
Heidelberg's tiny Christmas Market is located in its University Square, Kornmarkt, and the area between the Holy Ghost Church and City Hall. The illuminated castle towering above the downtown area serves as a beautiful backdrop for this cozy setting.



MüNCHEN
Munich's Christmas Market is spread out across town in small clusters of stalls. Food and drink items unique to this market include white sausages (weisswurst), pork knuckles (Schweinshaxe) and a bevy of beers: Cloudy Hefeweizens, dark Bocksbiers, pale Helles beers.

NüRNBERG
The world's best known Christmas Market, the Christkindlesmarkt, dates back to 14th Century. This centrally located market features rows and rows of stalls in the square in front of the Church of Our Lady. Nürnburg chefs claim to have the best Lebkuchen spiced cookies, and the best Bratwurst sausages.



STUTTGART
The Stuttgart Market is the undisputed champion in terms of size, with hundreds of Christmas stalls crammed between the downtown Schlossplatz and Markplatz. Vendors in Stuttgart go through a lot of trouble decorating their stands (there are prizes for the best decorated stand), a tradition which goes back 300 years. Unique specialties of this market include Spätzle, thick hand made noodles usually served with a cheese sauce, and Schupfnudeln, potato patties served with applesauce.



ULM
Ulm features a small market in the shadow the the magnificent Ulm Cathedral.


For more information on Christmas Markets around Germany,
CLICK HERE