Cities /Regions
Appenzell
Interlaken
Lucerne
Montreux
Spiez and Thun
Zermatt
Switzerland Hotels
Hotels in Appenzellerland
Hotels in Interlaken
Hotels in Lucerne
Hotels in Montreux
Hotels in Spiez
Hotels in Zermatt
Hotels in Zurich
Switzerland Tours
Appenzell and Chocolate Factory
Eiger and Jungfrau
Interlaken and Grindelwald
Geneva City and Boat Tour
Lucerne City Tour
Montreux and Lausanne
Best of Zurich
Switzerland Library
Switzerland Guide


Haute Route Chamonix-Zermatt


Alps Hiking Guide


45 Swiss Daytrips

Topographic Maps of Switzerland
Map of Appenzell


Map of Interlaken
Map of Lake Thun

Map of Lauterbrunnen

Map of Valais

Switserland General Map



IN A NUTSHELL
WHAT: Lucerne.
WHERE: Central Switzerland, on the shores of Lake Lucerne.
WHY: Preserved Medieval Bridges, beautiful lakeside location, mountain hikes and drives at your doorstep.
WHEN: Year round.
HOW: Flights into Zurich, then via car or train to Lucerne.
IF YOU LIKE THIS... Then you should take a look at nearby Spiez, another beautiful lakeside destination in the Swiss Alps.
Take a look at our Lucerne gallery to get a feel for this Central Switzerland lakeside destination. Lucerne is also surrounded by the Central Swiss Alps, and a quick drive south on Hwy

(see our Lucerne map below) towards Interlaken will take you through the Central Swiss Alps into the Bernese Oberland. The scenery is breathtaking, as you are surrounded by towering mountains and blue alpine lakes.
| | | | | |
| --- | --- | --- | --- | --- |
| | Lucerne's Chappel Bridge, dating from the 14th Century | | | Lake Lucerne |
| | Cafes and restaurants on the shores of Lake Lucerne | | | Wooden Medieval Chappel Bridge in Lucerne |
| | Restaurant Hotel Brünig Kulm, in the beautiful mountains south of Lucerne. | | | View up from the Valley from the Gasthaus Kulm |
| | Lakes and mountains south of Lucerne | | | Central Swiss Alps |
| | Stunning blue alpine lakes | | | Beautiful islands and lakes south of Lucerne |

On the road south of Lucerne, be sure to stop by the the Restaurant Hotel Brünig Kulm. It is located at the head of a valley at an extreme curve in the road, and offers breathtaking vistas of the mountains and valley below.
Other European Travel Destinations

Appenzell
This area in Eastern Switzerland is a hiking wonderland. The extensive network or trails and alpine huts make this village and its amazing scenery a must-see for any traveler.



SALZBURG
Salzburg is a fantastic mountain destination on the border between Germany and Austria. Come see the musical town that gave birth to both Mozart and The Sound of Music.



bruges
Visit this picturesque Belgian city and delight in the perfectly preserved medieval maze of canals, open plazas, and row houses.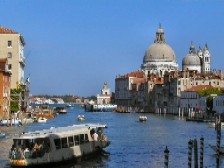 Venice
Take a stroll along Venice's world famous canals and view the magnificent works of art in the city's many art museums and historic cathedrals.



BLED
Astoundingly beautiful church nestled on an island in a blue alpine lake -- you will scarcely believe your eyes. This jaw-dropping vista is straight out of a fairytale.
Moving to Germany? Look at out our tips!

Moving to Germany
Whether you are a member of the US Air Force, Army, or Navy, check out our guide to moving to Europe.