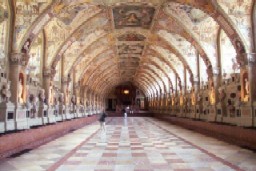 The Residenz palace is located in downtown Munich between the National Theater and the Feldherrnhalle. This palace was the home of the Wittelsbach dynasty from 1385 to 1918.

It took Muncheners 40 years to restore the castle after its wartime damage, but today the palace is simply magnificent. It features a dazzling array of treasures from Munich's storied past. A visit to the baroque palace will reveal a treasure-trove of artworks, ornaments, furnishings, an statues.

The Residenz is open Friday-Wednesday 9am-6pm, Thursdays 6am-8pm (April-October); Daily 10am-4pm (November-March). For more inforrmation call 089 29 06 7-1.

Munich Travel Tips
URBAN TRANSPORTATION Travel around Munich using the city's excellent public transportation system.

OTHER HIGHLIGHTS This city contains too much to visit on just one trip! If you've been here before, try visiting these other worthwhile, but lesser known sights.
Other European Castles

Neuschwanstein
Venture into the Bavarian Alps and visit the fairy tale landmark upon which the Walt Disney based his Disney Land Castle: Mad King Ludwig's Schloss Neuschwanstein.
Moving to Germany? Look at out our tips!

Moving to Germany
Whether you are a member of the US Air Force, Army, or Navy, check out our guide to moving to Europe.