Munich's 19th-Century Neues Rathaus (New Town Hall) is a spectacle of gothic towers and open courtyards. This huge hall is located on the Marienplatz in the city center.


The Rathaus's central tower houses a 43-bell clock which comprises the famed Munich Glockenspiel. This clock comes to life every day at 11am and 12pm (and 5pm March-October). If you're there at one of these times, you will get to see the life-sized statues dance to four different melodies much like a giant cuckoo clock.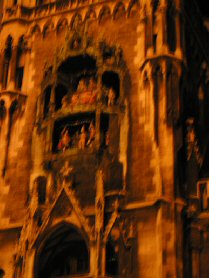 The Neues Rathaus is open Monday-Friday 9am-4pm, Saturday-Sunday 10am-7pm (May-October); Monday-Thursday 9am-4pm, Firdays 9am-1pm (November-April). For more information call 089 238 05-195.