Cities /Regions
Appenzell
Interlaken
Lucerne
Montreux
Spiez and Thun
Zermatt
Switzerland Hotels
Hotels in Appenzellerland
Hotels in Interlaken
Hotels in Lucerne
Hotels in Montreux
Hotels in Spiez
Hotels in Zermatt
Hotels in Zurich
Switzerland Tours
Appenzell and Chocolate Factory
Eiger and Jungfrau
Interlaken and Grindelwald
Geneva City and Boat Tour
Lucerne City Tour
Montreux and Lausanne
Best of Zurich
Switzerland Library
Switzerland Guide


Haute Route Chamonix-Zermatt


Alps Hiking Guide


45 Swiss Daytrips

Topographic Maps of Switzerland
Map of Appenzell


Map of Interlaken
Map of Lake Thun

Map of Lauterbrunnen

Map of Valais

Switserland General Map



All of our hiking routes begin at the Ebenalp Cable Car station and center in the valley east of Wasserauen. The highlights and map below show the various Appenzerland hiking routes in the Ebenalp area.
Appenzellerland Hiking Highlights

WASSERAUEN - EBENALP

The Wasserauen-Ebenalp cable car serves as the entryway to the hiking and skiing of Appenzellerland. Ebenalp (topside station named after the mountain) sits at an altitude of 5390 feet and houses a cafe. The hiking begins just steps from the door.

WILDKIRCHLI

, or "little wilderness

chapel" is a system of three cave ruins. These caves contain traces of Neanderthal habitation. These caves are located at an altitude of 4770 feet and are a short 15 minute walk below Ebenalp. A round-trip hike from Ebenalp to Wildkirchli and back up takes approximately 50 minutes.





SCHÄFLER
is a gasthaus that lies roughly southwest of Ebenalp at an altitude of 6312 feet. This is one of the gasthauses in the area the receives routine resupply by cable tray. Stop by for a quick drink or stay overnight in one of their warm beds! 50 minute walk from Ebenalp.

SÄ
NTIS
is the highest peak in the area and tops out at a height of 8211 feet. It is capped by the Swisscom radio and television tower. This high peak can be seen from all of the valleys below and provides a constant panoramic backdrop for photos in the region. It is a 2 hour trek from Ebenalp, but be prepared with crampons in all but the warmest summer months.

MESSMER
lies in the valley above Seealpsee and below Säntis. This gasthaus sits at an altitude of 5292 feet and provides wonderful views of the valley and meadowlands below.

SEEALPSEE
is the name of the valley's gasthaus on an island in the Seealpsee lake. This gasthaus sits at 3745 feet and you can reach it by hiking down from Ebenalp, or hiking up from Wasserauen. This relaxing spot is a great place to stop for food and drink and to enjoy the spectacular view of the mountains all around.
Map of hiking trails in the Ebenalp Area: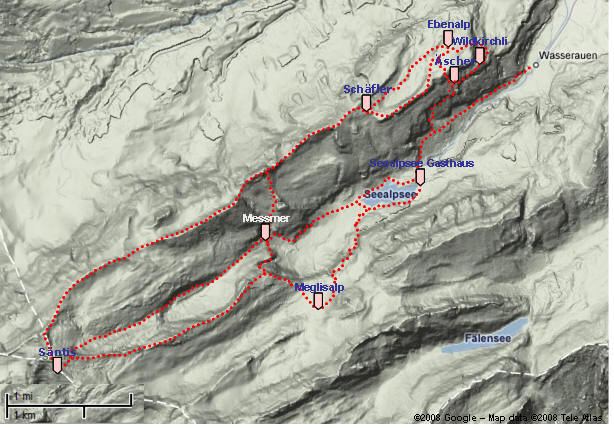 Recommended Hiking Routes in Appenzellerland
Mix and match the following routes to plan your own trip! The following routes provide an overview, highlights, snapshots, and time it takes to complete the route. Combine parts of routes with others.

Easy to navigate signposts mark each fork in the trail, so all you need is the name of your next destination!
1) Ebenalp - Wildkirchli - Äscher - Ebenalp Loop (50 minutes)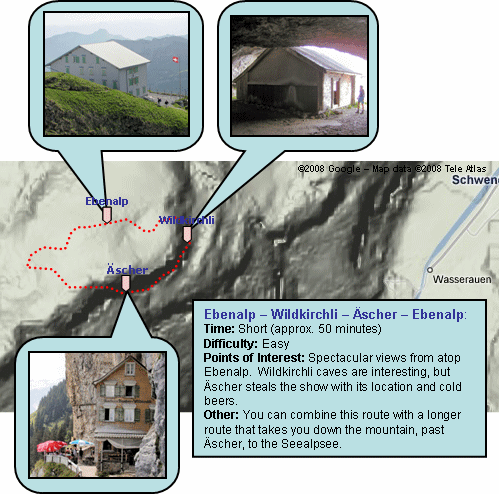 __________________________________________________________________

2) Ebenalp - Seealpsee - Wasserauen One Way Hike (1hr 45 minutes)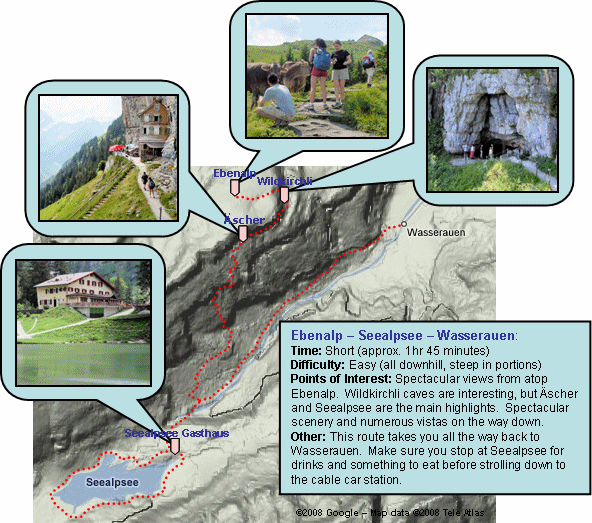 __________________________________________________________________

3) Ebenalp - Schäfler - Ebenalp (1hr 45 minutes)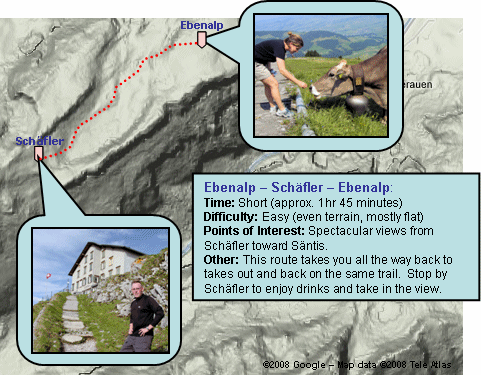 __________________________________________________________________

4) Ebenalp - Messmer - Wasserauen (4hr 15 minutes)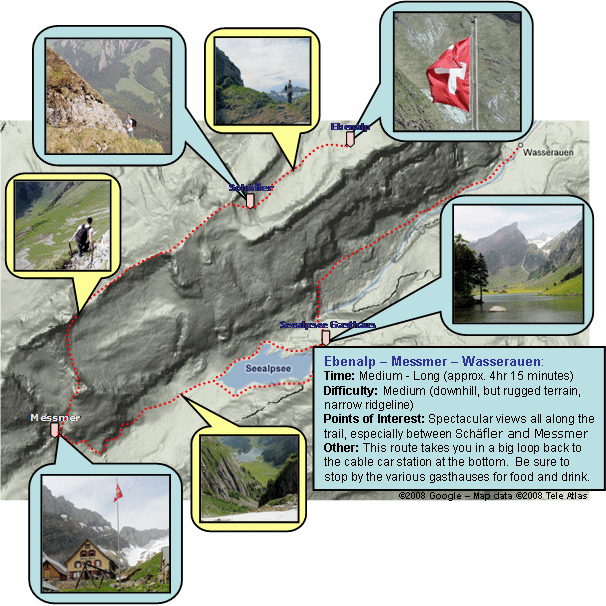 Other European Travel Destinations

Hohenschwangau
Take a trip into the Bavarian Alps to see the castle Bavaria's Mad King Ludwig grew up in.





Neuschwanstein
Venture into the Bavarian Alps and visit the fairy tale landmark upon which the Walt Disney based his Disney Land Castle: Mad King Ludwig's Schloss Neuschwanstein.
Moving to Germany? Look at out our tips!

Moving to Germany
Whether you are a member of the US Air Force, Army, or Navy, check out our guide to moving to Europe.