My trip -- 08-03:
I visited Venice in August, 2003 and I stayed in the Hotel Art Deco, a small and relatively cheap hotel located two minutes away from the Accademia Art Gallery and nearby Bridge. The hotel staff was friendly and helpful, and the room price included a European-style breakfast consisting of breads, pastries, cereal, yogurt, fruit, and cold cuts. The room I stayed in was clean with large windows that looked out onto the small side street below.

The hotel was situated on a narrow side street at one end of the Campo Santo Stefano, and had numerous restaurants nearby. The restaurants in the nearby square ranged from pizzerias to the more upscale ristorantes. All of these food choices offered relatively cheap (as compared to restaurants along the Grand Canal or at Piazza San Marco) North Italian fare. Campo Santo Stefano also had a small church which, as was typical in Venice, had magnificent paintings on its walls. Of course these paintings which would have been the centerpieces of most art museums elsewhere, were not grand enough to make the church noteworthy in most guidebooks.

In the 4 days I spent in Venice, I was able to see most of the main sights which can be viewed on our main Venice page. In other words, 4 days was enough to cover most of Venice, but that meant my feet were sore at the end of the day. Make sure you bring comfortable shoes with you.

Even though I had a guidebook and a map, the city was not easy to navigate. The tourist signs posted were intermittent and I often found myself at a fork in the road wondering which way to go. Do not count on getting directions from anyone, because most of the locals do not speak any English. In addition, even if they do speak English (or if you speak Italian), the locals do not give detailed directions.

It is not that they aren't trying to be helpful, but rather it is the fact that the roads are quite old and nothing is as easy as taking a right or a left to get to your destination. More often than not you will find yourself at an intersection or in a small square deciding between multiple right or left turns in your path. But do not be afraid, the city is quite small and you will always be able to find your way back. If worst comes to worst, find a canal and follow it to the outside of the island. From there you should be able to get your bearings.

If you are traveling on a tight budget, venture outside of the crowded tourist trap area around Piazza San Marco. The open market area near Rialto offers cheap souvenirs and food. There you will be able to find good sandwiches and even cafeteria style eateries. Don't worry, all the food is delicious!

For the particularly adventurous looking to eat something unique to Venice, try the seppie, which is a black sauce made from squid ink.

Overall, I had a fantastic trip. Venice rates as one of my top cities to wander through on foot (alongside Jerusalem, Brugge, and Washington D.C.). The city's main sights are located steps away from each other and half of the enjoyment is the short journey from monument to monument. I could literally spend days just wandering through the narrow walkways and alongside the countless canals spread out across the city.
Around Venice
Piazza San Marco The grandest of Venice's grand squares. This Piazza offers much to visitors, with the Basilica San Marco, views from the clock tower, and the surrounding markets.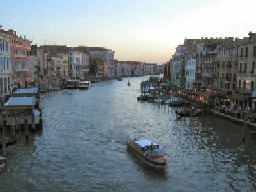 Canal Grande The Grand Canal is Venice's version of Main Street. The 4 km long canal forms an 'S' curve through the middle of the city, slicing right along Venice's grandest tourist sights.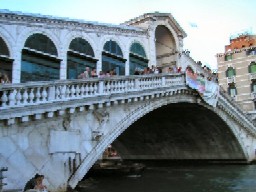 RIALTO BRIDGE Venice only has three bridges which cross its Grand Canal. Of these three bridges, the Bridge at Rialto is the most famous.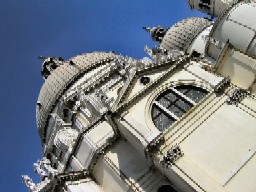 Santa Maria Della Salute Chiesa Santa Maria della Salute is one of the most recognizable landmarks in Venice. It's towering dome dominates the Dorsoduro neighborhood and is one of the main churches along the Grand Canal.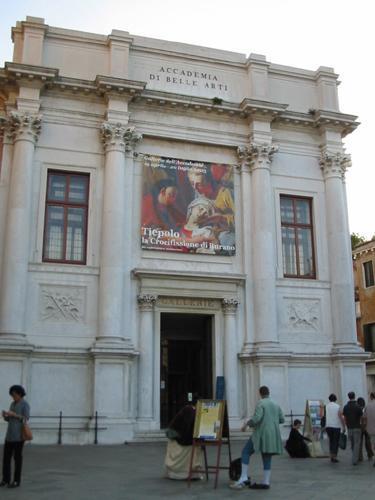 Gallerie Dell'Accademia Venice's greatest art museum boasts masterpieces from the great Venetian masters such as Bellini, Giorgione, Carpaccio, Tizziano, Tintoretto, Veronese and Tiepolo. The building housing these great paintings also once served as a church and a monastery.
Venice Travel Tips
WHERE TO STAY Find out which parts of the city to stay near...and which parts to avoid!

WATER TRANSPORTATION Tired of walking? Like any other city, Venice offers several modes of transportation. The catch is that they all travel on water.

VENETIAN SOUVENIRS Curious about what to buy in Venice?

LAGOON ISLANDS Visit a part of Venice most tourists never see!
Other European Cities

Heidelberg
Heidelberg is the very image of romantic Germany. The city's 17th Century red sandstone castle ruin and the old bridge are two of the most majestic sights in all of Germany.
Moving to Europe? Look at out our tips!

Moving to Germany
Whether you are a member of the US Air Force, Army, or Navy, check out our guide to moving to Europe.