Other European Sights

Hohenschwangau
Take a trip into the Bavarian Alps to see the castle Bavaria's Mad King Ludwig grew up in.





Neuschwanstein
Venture into the Bavarian Alps and visit the fairy tale landmark upon which the Walt Disney based his Disney Land Castle: Mad King Ludwig's Schloss Neuschwanstein.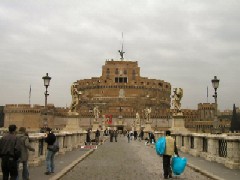 CASTEL SANT' ANGELO
Rome's Castle Sant' Angelo is a small, beautiful castle on the banks of the Tevere River located just outside of the Vatican.

Heidelberg
Heidelberg is the very image of romantic Germany. The city's 17th Century red sandstone castle ruin and the old bridge are two of the most majestic sights in all of Germany.
Moving to Germany? Look at out our tips!

Moving to Germany
Whether you are a member of the US Air Force, Army, or Navy, check out our guide to moving to Europe.