ST. NICHOLAS' CHURCH (Chrám Svatého Mikuláše) This beautiful Baroque Church was built by Jesuits in the 18th Century as a move in the Catholic Church's counter-Reformation. The church houses a dizzying array of statues and paintings. The ceiling holds a 16,146 square foot fresco, depicting the apotheosis of St. Nicholas. Mozart played St. Nicholas' 2500 pipe organ a visit to the city in 1787.

Open Daily 9-4:30. Guided tours are available.
Other European Cities

Heidelberg
Heidelberg is the very image of romantic Germany. The city's 17th Century red sandstone castle ruin and the old bridge are two of the most majestic sights in all of Germany.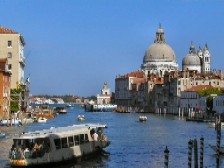 Venice
Take a stroll along Venice's world famous canals and view the magnificent works of art in the city's many cathedrals.
Moving to Europe? Look at out our tips!

Moving to Germany
Whether you are a member of the US Air Force, Army, or Navy, check out our guide to moving to Europe.