MOVING TO GERMANY
Cities
Cologne (K

ö

ln)
Frankfurt
Heidelberg
Munich (M

ünchen)


Stuttgart
Triberg
Ulm

Castles
Heidelberg
Hohenschwangau
Hohenzollern
Schloss Solitude
Ludwigsburg
Neuschwanstein

Other
Bavarian Alps
Black Forest
Dachau Concentration Camp
Garmisch-Partenkirchen
Hitler's Eagle's Nest


Hofbräuhaus


Ulm Cathedral

German Festivals
Canstatter Wasen
Munich Oktoberfest
Stuttgart Fruhlingfest
Stuttgart Weindorf
Stuttgart Sommerfest
Christmas Market

Germany Library
Maps of Germany
Travel Guides
Ski Equipment
Outdoor / Hiking Equipment

Photo Galleries
Germany Photos
Mountain Photos
Christmas Market Photos
Castle
Send an e-Postcard


Ulm is the home of the largest cathedral in Southern Germany. This magnificent work of engineering and architecture holds the world's tallest church spire at a height of 161m.

Work began on this cathedral in 1377, and was carried on in intervals until 1545. It took another 300 years to get finished, when work began once again in 1844 and the cathedral was finally completed in 1890. Today this giant Gothic church measures an astounding 464 ft long and is 159 feet wide. The massive interior has the capacity to hold 30,000 people.

Click Here for a panorama of Ulm Cathedral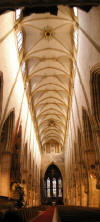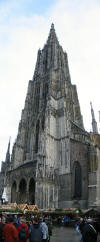 Visitors to the church can pay a small fee to climb the 768 steps up to the top of the steeple. From the top of the spire you can see the Alps on a clear and sunny day.

Directions:
From Stuttgart
Take the A8 towards München (Munich), then turn right onto B10, which takes you right into Ulm. You can't miss the cathedral, as it is by far the tallest structure in the area. The Cathedral is located in the middle of Ulm's downtown pedestrian area.
Other European Castles

Neuschwanstein
Venture into the Bavarian Alps and visit the fairy tale landmark upon which the Walt Disney based his Disney Land Castle: Mad King Ludwig's Schloss Neuschwanstein.
Moving to Germany? Look at out our tips!

Moving to Germany
Whether you are a member of the US Air Force, Army, or Navy, check out our guide to moving to Europe.

©2004 All Rights Reserved - Contact Let's Go Europe
Vacation Tips
Browse our options below to help plan your vacation activities. Don't miss these sights and activities. Preview our photos before you go.
Panoramas
Heidelberg
Ulm Cathedral
Neuschwanstein
Highlights
Sights
Food
Lodging
Insider Tips

Activities
Castles
Festivals
Hiking
Mineral Baths
Museums
Skiing / Snowboarding

Countries
Austria
Belgium
Czech Republic
France
Germany
Great Britain
Hungary
Italy
Malta
Spain
Sweden
Switzerland