Pilsen is well known among beer connoisseurs as the home of the Pilsner Urquell brand Czech beer, as well as the birthplace of the pilsner type of beer. Really, beer is a central theme to the city, and the two have been entwined since its very beginning in 1295.

As for the pilsner beer which draws its name from the very town which first produced it, it was first brewed in 1842.

The main highlights of the Pilsen City Center are the Town Hall and St. Bartholomew's Church.

The Town Hall dominates the north side of the city square and dates to 1496. At that time, the people of the city purchased the largest building in town and converted it into a municipal establishment.

The Town hall was damaged in a fire in 1507, but was subsequently rebuilt by Italian artisans. Further additions were made in the 19th Century, and then at the turn of the 20th Century the building again underwent renovations and reconstruction.

The second imposing structure in the city square is St. Bartholomew's Church, which dates back to the 13th Century. The same fire of 1507 which destroyed Pilsen's Town Hall damaged the church and much of it was rebuilt in the 16th Century.
Other European Cities

Heidelberg
Heidelberg is the very image of romantic Germany. The city's 17th Century red sandstone castle ruin and the old bridge are two of the most majestic sights in all of Germany.


Prague
Visit Europe's "Golden City" and experience the magical quality of Prague's medieval buildings and Gothic spires. This well preserved European capital is a feast for the eyes.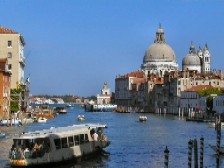 Venice
Take a stroll along Venice's world famous canals and view the magnificent works of art in the city's many cathedrals.
Moving to Europe? Look at out our tips!

Moving to Germany
Whether you are a member of the US Air Force, Army, or Navy, check out our guide to moving to Europe.